BROADBAND LIGHT THERAPY - PHOTREJUVENATION IN NEWCASTLE
ENHANCED IPL TREATMENT WITH INCREDIBLE RESULTS
Do you want to achieve the 'no makeup look' but aren't quite sure where to start?
BBL™ Corrective Photorejuvenation is an enhanced IPL or photofacial technology that delivers drastic results for those wanting to reduce and clear pigmentation, sun damage, freckling, redness and the signs of ageing. Whilst many IPL and photofacial technologies help with clearing visible blemishes in the skin, the BBL™ technology does so quickly with fewer treatments, with a wider range of applications and added benefits. BBL™ technology is the only device on the market that is proven to alter the skin's DNA and gene expressions that are responsible for causing the signs of ageing. Studies demonstrate that regular maintenance with BBL™ treatments can restore the gene expression pattern of aged human skin to resemble younger more youthful skin. Click here to find out more about the study.
INDICATIONS TREATED WITH THE BBL™ CORRECTIVE PHOTOFACIAL:
Ageing skin
Fine lines and wrinkles
Skin laxity
Skin texture
Skin tone
Pigmentation/freckling
Sun damage
Redness
Rosacea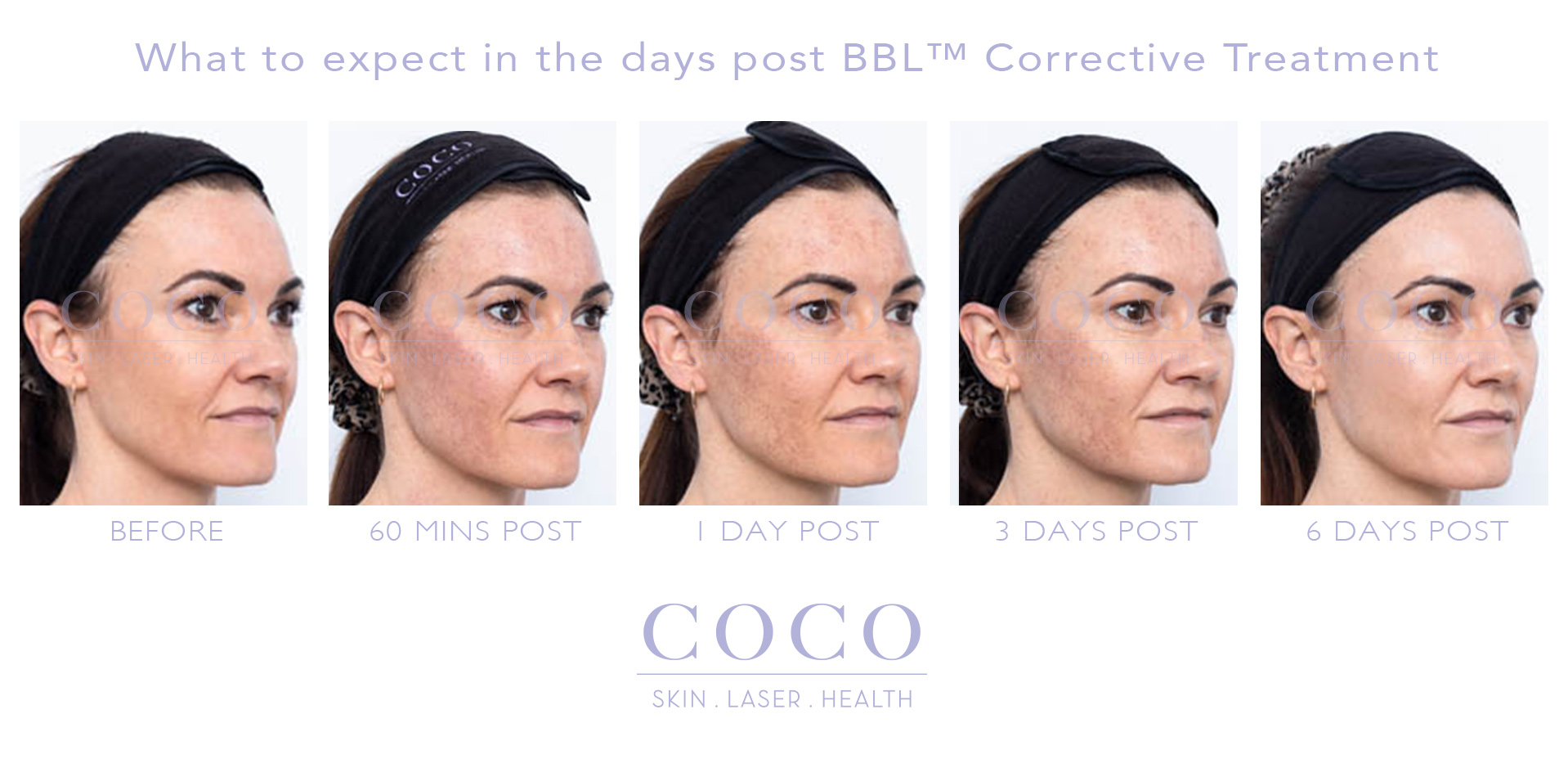 Coco's practitioners have been operating the Sciton® BBL™ technology in Australia for over 13 years and are recognised as one of the leading Sciton® treatment providers in Australia when it comes to experience and amount of treatments performed. Our Dermatologist's and Registered Nurses (link to meet the team page) have years worth of case studies regarding all skin types to know how to effectively tune the device to get the best results for your skin.
The BBL™ can be taken advantage of with one-off treatments that produce stunning results by clearing blemishes, creating well hydrated/dewey skin and firming/tightening the skin. However the best results from the BBL™ are experienced over longer treatment cycles that include multiple treatments.
A well known clinical trial (link to trial if posible to help with credibility) showed that clients who received two treatments in the first year of the trial and one maintenance treatment each year for the following ten years were assessed by an independent panel and were rated to look younger than before the study commenced effectively winding back their appearance by more than ten years.
The cost of BBL™ is determined by the size of the area being treated. The minimum area cost for BBL™ is $250 per treatment. A Full Face treatment costs $590. Coco also offers treatment series that offer excellent value for money when you purchase multiple treatments up front.
The sensation is described as a hot rubber band flicking on the skin. Whilst everyone's skin and treatment response is different, most clients enjoy a comfortable treatment experience.
Temporary redness, swelling, heat within the skin and itching can occur immediately after treatment. Any symptoms usually subside within one hour post treatment. Any pigmentation and freckling within the treated area will begin to flake off the skin in the days following your treatment. After care instructions will be provided to you on the day of your appointment.
Whilst every clinic makes claims about superior technologies and latest trends, there are certain treatments that have been comprehensively tried and tested over a number of years that are truely proven to work.
BBL™ technology is not only proven to wind back the clock at the skin's DNA level (see BBL Forever Young™) it also achieves amazing clearance for uneven skin tone and texture by reducing visible signs of sun damage, pigmentations, freckling, redness such as rosacea and also scarring.
Coco has a proven track record when it comes treating these conditions and is backed by Dermatologists. Please note: Sun damage can lead to harmful conditions within the skin and should be assessed thoroughly before being treated with any form of laser or energy based device.