DERMAL FILLER INJECTIONS IN NEWCASTLE
RESTORE VOLUME & HYDRATION OR ADD VOLUME WITH DERMAL FILLERS
Are you looking to hydrate your lips and face or subtly plump your lips and cheeks, maybe you have you noticed a change in the volume of your face as you age?
Dermal filler injections can help to create definition in features such as the lips, cheeks, jaw, around the mouth and other areas and also improves hydration within the skin. By adding volume to subtly shape the face, filler can restore volume loss caused by ageing and restore a more youthful and vibrant appearance. Dermal filler injections improve the concentration of naturally occurring Hyaluronic Acid (HA) within the skin; a substance that strengthens connective tissue and helps store water within the skin's tissue.
'Lip filler' and 'cheek filler' are popular terms used to describe filler treatments that add volume and hydration to the lips and cheeks. These are popular areas for treatment due to their influence on the overall appearance of the face. When balanced well, a subtle change of volume in specific areas can balance the aesthetic ratios of the face and it's structures.
Other uses for Dermal Filler injections include helping to adjust asymmetries where a certain area or structure is larger, smaller, wider, narrower, higher or lower on one side of the face when compared to the other.
Coco uses a wide range of filler products that can be used for a variety of different applications. Each product has varying benefits. For example, some products are more suited to filling volume in the face and may be placed deeper in to the skin's tissue, where others are more suited to increasing hydration and smoothening out textural differences on the skins's surface. These are generally placed more superficially into the skin. Depending on the area being treated, your practitioner will recommend a suitable product to help you achieve your goals for treatment and provide some education around the choice they have made for you and the benefits associated with their recommendation.
INDICATIONS TREATED WITH DERMAL FILLERS:
Fine lines and wrinkles
Ageing skin
Creases and folds around the nose, mouth, forehead and eyes
Volume loss
Lip structure
Cheek structure
Facial asymmetry
Dehydrated skin and lips
Uneven skin texture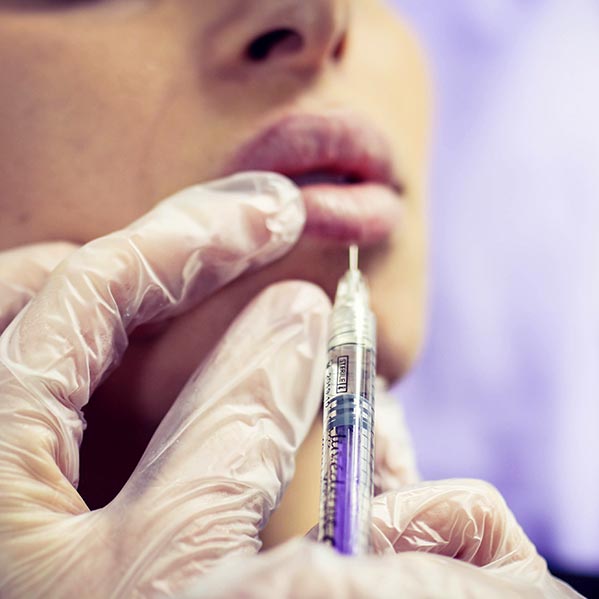 At Coco, all injectables treatments are overseen by one of our expert Dermatologists. All consultations involve meeting your prescribing Doctor in conjunction with your Registered Nurse who will be administering your treatment. At the time of your consultation, your practitioner will assess your skin and conduct a facial mapping assessment to construct a treatment plan that works for you and your skin. Coco's practitioners have years of experience administering injectable treatments and are passionate about delivering natural results. Our practitioners will only recommend products and techniques that are considered safe and appropriate for you and your skin. If a procedure is not recommended for you, we will educate you as to why the treatment is either not suitable or unsafe.
Whilst we cannot publish the brand names of filler product that Coco prescribes, we only use leading brands of Hyaluronic Acid (HA) filler products that have been tried and tested over long periods of time to ensure the safety of the treatment.