HALO™ HYBRID FRACTIONAL RESURFACING LASER IN NEWCASTLE
ACHIEVE SMOOTH AND GLOWING SKIN WITH A FRACTIONAL RESURFACING LASER TREATMENT
Have you ever wondered what a resurfacing laser treatment could achieve for your skin but you were worried about the gory downtime and process involved?
The Halo™ Hybrid Fractional Laser by Sciton® could be for you! This technology has revolutionised laser resurfacing treatments by drastically changing the treatment process, and more specifically, the experience post treatment or 'downtime' involved. The downtime required with the Halo™ treatment is significantly rduced when compared to any other platform within the same category of laser whilst still achieving the results generated by more aggressive ablative lasers.
Achieve a brighter and more refreshed look with a Halo™ Laser treatment and benefit from effects such as skin tightening, the evening out of skin tone and texture, a reduction of pigmentation and sun damage and brighter glowing skin. Due to the Halo™ treatment's improved safety, treating areas other than the face with resurfcing treatments has become much easier. Benefit from treating areas such as the neck, décolletage arms and more.
INDICATIONS TREATED WITH THE HALO™ LASER:
Ageing skin
Fine Lines and wrinkles
Sun damage
Pigmentation
Pore size
Redness
Scarring
Uneven skin tone (discolouration)
Uneven skin texture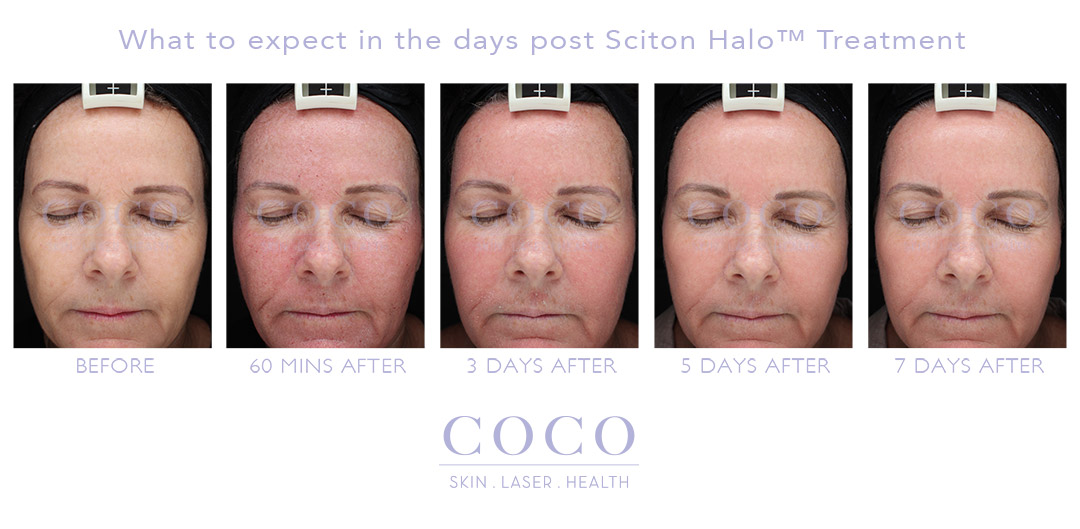 The nature of other treatments such as Co2 and Fraxel laser treatments can cause open and weeping injuries to the majority of the first layer of skin, leaving the skin vulnerable with a much higher risk of infection and scarring.
Whilst all lasers carry elements of risk, the Halo™ Laser is groundbreaking for reducing many of the risks involved with ablative laser procedures.
The Halo™ laser utilises intuitive technology that helps to control the amount of energy being delivered in to the skin. This technology helps to control the number of 'passes' that the laser is able to make over the skin making the treatment safer and reducing the risk of over treating areas of the skin.
The ground breaking Halo™ hybrid technology is the world's first hybrid laser technology. Unlike other single modality ablative lasers such as CO2 and Fraxel, the Halo™ utilises two different lasers or 'wavelengths' simultaneously to create a synergistic effect that provides greater catalyst for change within the skin as you're essentially receiving two laser treatments in one. The Halo™ treatment leaves the skin largely intact after treatment which allows for much faster results and easier management of the treatment area reducing or eliminating the risk of infection. This allows areas of the body to also be treated with ease.
THE dual wavelengths allow for deep dermal regeneration and epidermal surface renewal.
The 2940nm Erbium Yag laser wavelength (ablative laser component) is delivered through a precise scanning device that removes channels by vaporising the water in the skin's tissues.
The 1470 nm laser wavelength (non-ablative laser component) heats the skin to create columns of wounded tissue to target deep pigmentation and stimulate new collagen deep within the skin.
All resurfacing treatments at Coco are performed by Coco's Registered Nurses (RNs) who have completed intensive training on multiple laser devices including the Halo™ laser platform under the guidance of Coco's specialist Dermatologists. Coco's RN's have completed over 30,000 laser treatments and are among the most experienced laser practitioners in Australia. Coco is recognised by Sciton as being one of the largest providers of Halo™ treatments in Australia. Coco's founding practitioners have been operating Sciton laser technology for over 10 years and have a proven track record performing and managing ablative laser treatments
A comprehensive consultation is conducted by one of Coco's Registered Nurses to capture your medical history, discuss treatment goals and ascertain whether this treatment option is suitable for you. Once confirmed and expectations are set, your treatment will be booked on another day where a topical anaesthetic cream can be applied 60mins prior to your Halo™ treatment.
The treatment is relatively quick and duration varies depending on the size of the treatment area. The Halo hand piece is glided over the skin to deliver the treatment with multiple 'passes' of the laser. To achieve the best results, the treatment area will be measured with motion tracking technology to ensure the area is treated evenly.
Many patients describe the treatment as a feeling of heat with occasional prickling sensations, but generally comfortable. A cryo Zimmer machine is also available during treatment to blow cold air on to the treated areas to add extra comfort during treatment. Client's experience a warm or hot sensation post-treatment for up to 30 minutes to two hours. Ice packs are supplied to provide immediate relief to the treated areas. A take home post-laser care package and after care instructions are provided.
A follow up appointment is included in the treatment cost, this will be scheduled 7 days after your treatment.
Whilst the Halo™ laser drastically reduces the downtime required to achieve amazing results, there is still up to 7 days of downtime required. This is an amazing feat considering other ablative treatments typically require between 2 to 4 weeks downtime.
Treatments can be scaled to suit your expectations for downtime. See below two case studies showcasing a light treatment and a more intensive treatment to give you an idea of the variations and outcomes in the 7 day after treatment.
Your skin may feel warm or hot immediately after treatment, this may be relieved using our Zimmer cooling system and ice packs that are provided for you. A healing cream will be applied to the skin which you can also take home with you to continue applying over the next few days.
Some client's may experience some swelling soon after their treatment, Mild to moderate and in some cases heavy swelling can occur on days 2 and 3 post treatment. Bronzing and pigmenting of the skin also known as MENDS may also occur between day two and three after treatment. At days three to five post treatment the bronzed and pigmented skin peels revealing your newly rejuvenated skin beneath.
Some mild redness may be experience in the weeks following your treatment but will fade over time.
You will begin to notice initial results between two and five days after your Halo treatment and your skin will continue to improve over time. Most patients see the greatest pigmentary improvement in the first two to three weeks which is followed by a longer phased dermal regeneration process that continues to improve for 6 to 12 months following treatment acting on indications such as texture, fine line, wrinkles etc.
The cost of Halo™ treatments varies depending on the size of the area being treated. Prices start at $450 for a minimum area. A Full Face Halo™ treatment costs $1650.
When compared with other ablative options on the market, the Halo™ is an extremely valuable treatment. Some ablative options such as CO2 can cost up to $4000 or more for a full face treatment, the Halo™ comes in at only a fraction of this cost. Costs for other ablative options are usually very high due to the nature of the injuries to the skin and the more intensive post treatment care/management.