HALO™ HYBRID FRACTIONAL RESURFACING LASER IN NEWCASTLE
ACHIEVE SMOOTH AND GLOWING SKIN WITH A FRACTIONAL RESURFACING LASER TREATMENT
Have you ever wondered what a resurfacing laser treatment could achieve for your skin but you were worried about the gory downtime and process involved?
The Halo™ Hybrid Fractional Laser by Sciton® could be for you! This technology has revolutionised laser resurfacing treatments by drastically changing the treatment process, and more specifically, the experience post treatment or 'downtime' involved. The downtime required with the Halo™ treatment is significantly rduced when compared to any other platform within the same category of laser whilst still achieving the results generated by more aggressive ablative lasers.
Achieve a brighter and more refreshed look with a Halo™ Laser treatment and benefit from effects such as skin tightening, the evening out of skin tone and texture, a reduction of pigmentation and sun damage and brighter glowing skin. Due to the Halo™ treatment's improved safety, treating areas other than the face with resurfcing treatments has become much easier. Benefit from treating areas such as the neck, décolletage arms and more.
INDICATIONS TREATED WITH THE HALO™ LASER:
Ageing skin
Fine Lines and wrinkles
Sun damage
Pigmentation
Pore size
Redness
Scarring
Uneven skin tone (discolouration)
Uneven skin texture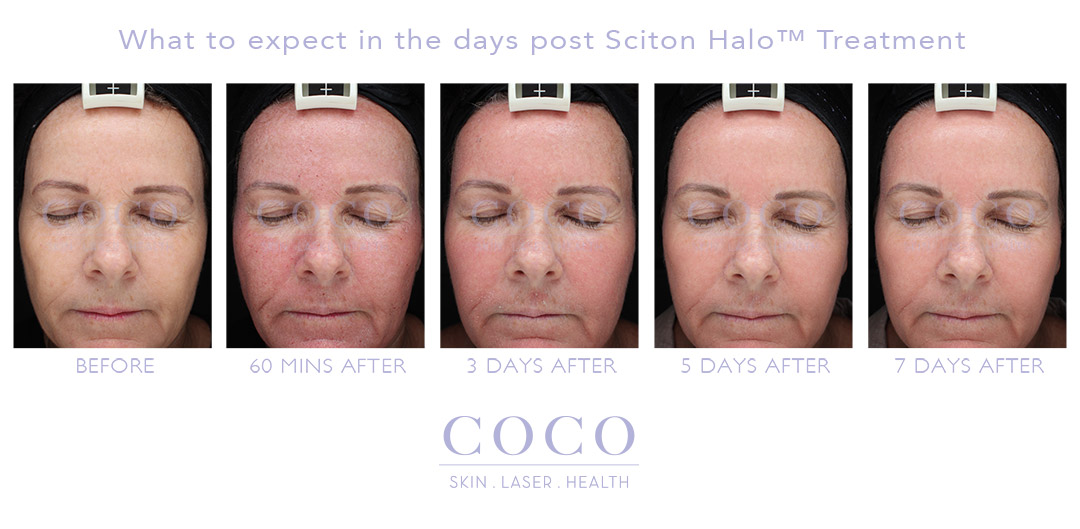 The nature of other treatments such as Co2 and Fraxel laser treatments can cause open and weeping injuries to the majority of the first layer of skin, leaving the skin vulnerable with a much higher risk of infection and scarring.
Whilst all lasers carry elements of risk, the Halo™ Laser is groundbreaking for reducing many of the risks involved with ablative laser procedures.
The Halo™ laser utilises intuitive technology that helps to control the amount of energy being delivered in to the skin. This technology helps to control the number of 'passes' that the laser is able to make over the skin making the treatment safer and reducing the risk of over treating areas of the skin.