HYDRABRASION FACIAL IN NEWCASTLE
CLEAR & REFRESH YOUR SKIN WITH A HYDRABRSION FACIAL
'Hydra' microdermabrasion treatments gently flush and clear your skin's congestion to help restore healthy skin function, the 'hydra' component helps to open the pores and prepare the skin for nourishing formulas full of active ingredients that rejuvenate the skin. 'Hydra' treatments bridge the gap between beauty treatments and skin rejuvenation treatments offering an insight into the excellent results that are possible with effective technology & active ingredient skin care formulas.
'Hydra' is a term used to describe this new era of beauty treatments where a newly designed hand piece for microdermabrasion platforms fuses water in to the skin to flush the skin for a refreshing cleanse. The hand piece also utilises gentle suction to remove any debris that is exfoliated throughout the process. The hand piece is gently massaged over the skin throughout the treatment making multiple passes on the skin's surface to clean and restore the skin back to good health. It is popular amongst male and female clients as it clears congestion, blackheads and unblocks pores. The treatment is safe and effective for all skin types, especially oily and dry skin.
INDICATIONS TREATED WITH THE HYDRABRASION FACIAL:
Blackheads
Congested skin
Uneven skin texture
Dry skin
Oily skin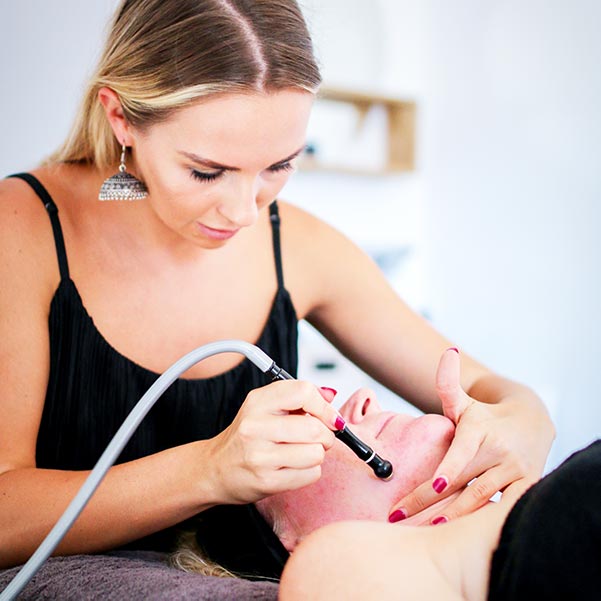 Each platform utilises a water fusing and suction mechanism to flush and exfoliate the skin.
Coco's Hydrabrasion treatment is not restricted to the types of active ingredients that we use on your skin. Our therapists will assess your skin type and customise the active ingredient formulas to your skin's unique needs according to your goals for treatment.
Hydrafacial is a proprietary product that uses supplied premix formulas which are applied to the skin throughout the treatment process.