REMOVE UNWANTED LUMPS & BUMPS WITH A HYFRECATOR TREATMENT IN NEWCASTLE
CREATE SMOOTH & BLEMISH FREE SKIN WITH A HYFRECATOR TREATMENT
Do you have small lumps and bumps on the skin such as milia cysts, age spots, skin tags and warts that you would like removed?
Small growths can be found on both men and women and are usually harmless. They can be found on all areas of the body and may cause some discomfort for some or simply be considered as rather unsightly at times but thankfully they can be treated instantly with a quick diathermy procedure.
A diathermy treatment is a safe and effective medical solution that uses a small needle with an electrical pulse which essentially acts as a diathermy using intense heat to burn away small lumps and bumps from the skin. The heat produced by the diathermy needle destroys the tissue of the lesion often creating instant results. Areas commonly treated using diathermy include the head/face, neck, shoulders, chest and back as these areas are more exposed to the harmful effects of sun damage and generally develop more textural skin concerns.
The treatment, also known as 'electrocautery' or Hyfrecation, meaning 'high-frequency eradicator', is quick and suitable for removing specific smaller lumps and bumps on the skin at a lower cost when compared to other laser treatments such as ablative laser.
INDICATIONS TREATED WITH THE HYFRECATOR TREATMENT:
Milia Cysts
Skin tags
Age spots
Warts
Seborrhoeic keratosis
Comedones
Non malignant lesions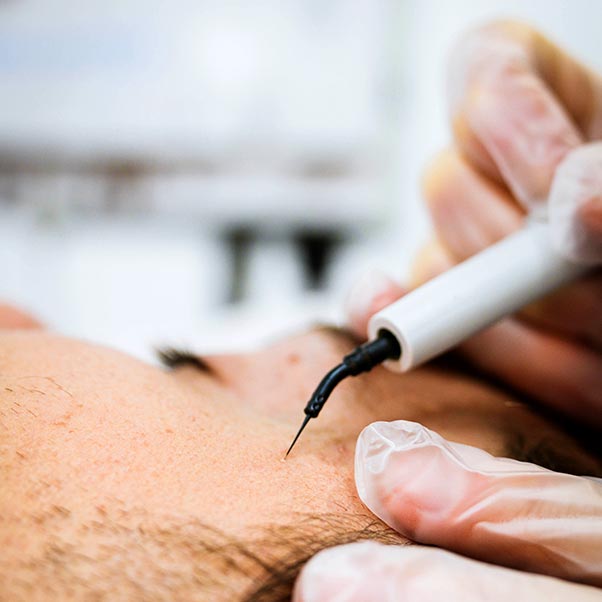 The treatment is generally tolerated well. Whilst there is some slight discomfort, the treatment is very quick and the specific treatment areas are only very small. Local anaesthetic cream is usually utilised for your treatment, your practitioner will discuss this option with you.
A light crusting of the treatment site will develop on the days following the procedure which will completely heal approximately 7 days post treatment. Generally the treatment spots are small resulting in only minimal impact on your day to day activities. Some dots or spots will be visible in the days following treatment.
Yes, it is important that our Registered Nurses screen your treatment areas before being treated with Diathermy. Appropriate clarification or diagnosis of the treatment sites prior to being removed is necessary to ensure a safe treatment. Subject to availability, it is possible to have your treatment on the same day as your consultation. Your consultation will be redeemable against the cost of your treatment.
Generally your procedure will create near instant results. Once healed, complete removal is usually achieved. However, there are some cases where multiple treatments may be necessary.
Treatments are charged at 15 minute intervals. A 15 minute treatment costs $300 and a 30min treatments costs $450.