EXPERIENCE THE INTRACEUTICALS OXYGEN FACIAL IN NEWCASTLE
BRIGHTEN & HYDRATE YOUR SKIN WITH THE OXYGEN FACIAL
The Intraceuticals Oxygen Facial is a soothing treatment that promotes many health benefits for all skin types whilst calming, brightening and hydrating the skin. With it's anti-inflammatory properties, the Oxygen Facial treatment is especially beneficial for highly sensitive skin.
The facial includes a generous double cleanse with hot towels and a complete full face treatment with pressurised hyperbaric oxygen, a natural bactericide. The oxygen treatment not only prepares the skin for medical and professional grade serum applications but also plays a role in delivering these serums to the skin. Serums applied to the skin during and after your oxygen facial are formulated to suit your individual skin and skin type and may include rich vitamins A, B3, C, E, hyaluronic acid for intense hydration, green tea extract, peptides and salicyic acid which is excellent for treating mild to moderate acne.
The Oxygen Facial hand piece is a small lightweight device that provides a lightly pressurised constant stream of filtered oxygen in to the skin that gently fuses the active ingredient serums in to the skin. The treatment is relaxing, comfortable and soothing and works as an excellent add on for our other treatments such as the Omnilux™ LED Light Therapy Facial, Hydrabrasion Facial and Enzyme Reactivation Peels.
INDICATIONS TREATED WITH THE OXYGEN FACIAL:
Ageing skin
Fine lines & wrinkles
Dry skin
Mild pigmentation
Mild sun damage
Skin Tone
Mildly uneven skin tone & texture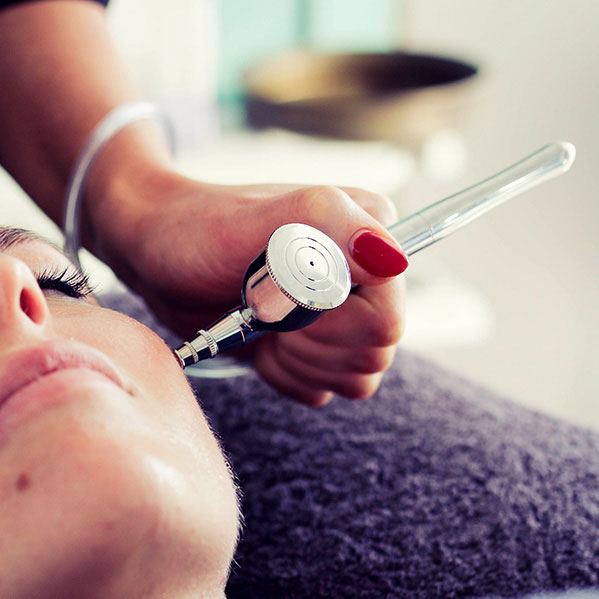 After just one treatment the skin feels hydrated, brighter and more radiant making it the perfect treatment to have in the days leading up to important events. As this treatment works with medical grade serums, the results, strength and effect of the treatment can vary depending on the serum formula created for you. We recommend a maintenance plan that is tailored to your skin with multiple treatments to achieve best results.