Omnilux™ LED Light Therapy
OMNILUX™ LED LIGHT THERAPY
OMNILUX LED LIGHT THERAPY IN NEWCASTLE
ACHIEVE YOUR SKIN GOALS WITH A RELAXING LED LIGHT THERAPY TREATMENT
Are you looking for a relaxing and gentle treatment with no downtime that is a highly effective skin rejuvenation treatment?
Omnilux™ LED light therapy offers a nurturing 30 minute treatment that delivers specific wavelengths of light to the skin to stimulate the body's own natural processes and is suitable for skin types. Whilst you relax, the LED treatment improves cellular circulation within the skin, stimulates collagen and encourages cell renewal. Enjoy an aromatherapy hand massage, the warm radiance of the LED's effect on the skin, the soft sounds of relaxation music and reiki crystal therapy (if one would like) during your LED light facial at Coco. Emerge from your Omnilux™ with your skin feeling lighter and renewed.
Coco offers two different colours/wavelengths to choose from:
Omnilux Revive (Red) –
Stimulates deep beneath the surface of the skin to rejuvenate the skin in the most gentle way possible resulting in a more vibrant and dewy appearance. The red LEDs stimulate new fibroblast activity creating more rapid collagen reproduction, repair damaged skin, improve uneven skin tone and reduce the appearance of fine lines and wrinkles by plumping the skin. Regular sessions are recommended to enhance and maintain results.
Omnilux Blue –
Is designed to deliver pure blue light at a precise wavelength. The blue light is clinically proven to be effective in the treatment of acne. By stimulating anti-bacterial and anti-inflammatory activity in the deeper layers of the skin, it works to stabilise sebum production and effectively prevent acne and treat active acne.
INDICATIONS TREATED WITH OMNILUX™ LED LIGHT THERAPY:
Fine lines
Volume Loss
Dry skin
Acne
Rosacea
Eczema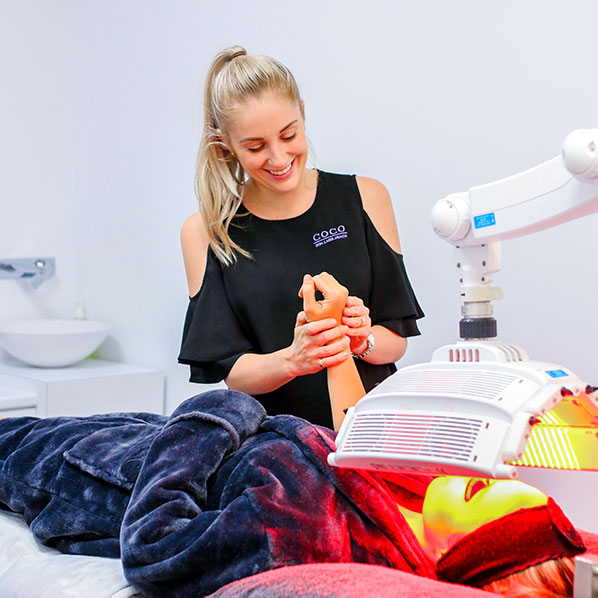 Book an Omnilux™ LED Light Therapy treatment online today to secure an appointment with one of our Registered Nurses or therapists. BOOK ONLINE
OMNILUX™ LED FAQS
What does LED stand for? LED stands form 'Light Emitting Diode'. These lights are in common use around the world in many everyday electronic products. To be beneficial for the skin, the right wavelength and concentration must be utilised. Medical grade LED's are specifically created to emit a brighter luminescence for the purpose of phototherapy. What does LED therapy feel like?
Unlike other light based treatments such as BBL™ and IPL, LED therapy is non-thermal meaning it doesn't generate heat within the skin, it is non-invasive and has no downtime. Goggles are worn during your treatment to protect your eyes from the bright light emitted from the device and a soft warm glow can be enjoyed throughout the treatment as the device goes to work on your skin. Does Coco offer other colours or wavelengths for LED light therapy?
Coco offers both the Red and Blue Omnilux™ wavelengths. There are other colours/wavelengths available on the market, however Coco have assessed these options and have other more suitable treatment options available to treat any skin indications that come under the banners of other LED colours available on the market. Can I 'add-on' LED treatments to other skin rejuvenation treatments?
The LED light therapy facial works well when combined with other treatments such as some laser treatments and enzyme reactivation facials. Speak to your practitioner in clinic about suitable treatment combinations that will work for your skin type. How much does an LED light therapy facial cost?
A 30 minute light therapy facial appointment including an aromatherapy hand & arm massage costs $120. Value packages are available, see our online booking page for more details.
OTHER SERVICES
CONTACT US