PRP THERAPY & INJECTABLES IN NEWCASTLE
RESTORE YOUR SKIN NATURALLY WITH PRP THERAPY AT COCO
Would you like to take a more natural approach to cosmetic injectables in order to rejuvenate your skin?
PRP or 'Platelet Rich Plasma' therapy works with the body's natural healing process to target fine lines, wrinkles and textural concerns within the skin that are caused by the harmful effects of UV damage and a decrease of collagen and elastin within the skin. By extracting the body's own growth factors (proteins from platelets within the bloods plasma), they can be injected back into the skin at specific locations and in high concentrations to generate smooth and more youthful looking skin.
The secret lies in the amazing qualities of the autological factors in your blood which trigger the body to not only regenerate volume within the skin for firmer and more plumped skin but also encourages more active substances at the injection site that reverse the signs of ageing. The process stimulates the fibroblast cells to create collagen and activates other cells within the body to move to the injection site and assist with the rejuvenation process. With more platelets flooding in to the treated area, greater concentrations of collagen are generated and the process of creating healthier skin gets well underway.
Collagen is a substance responsible for healthy skin traits. As we age, the rate of collagen production decreases causing a decline in the appearance and health of the skin.
The benefits of this approach are the natural and self-healing effects of regenerated skin, a reduction in fine lines and wrinkles, improved skin vitality, improvement in sun damaged skin, and greater skin hydration.
It is recommended that you eat a balanced healthy diet, keep well hydrated, avoid smoking and avoid alcohol consumption in the days leading up to your treatment to ensure best results.
INDICATIONS & AREAS TREATED WITH PRP THERAPY:
Ageing Skin
Fine Lines and wrinkles
Uneven skin tone
Uneven skin texture
Dry skin
Scarring
Volume loss
Pigmentation
Sun damage
Eye troughs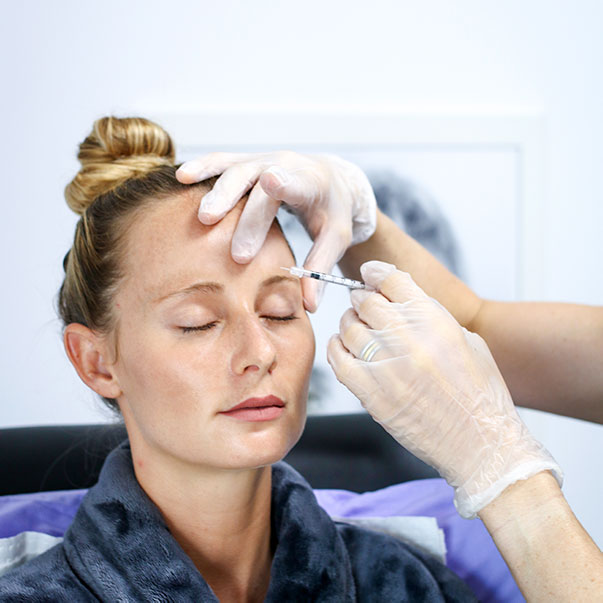 Prior to any treatment an anaesthetic cream is applied to the treatment areas. The practitioner then collects a small blood sample of 10 – 40 mls by venepuncture (common blood test method). This blood is immediately placed in a centrifuge for 5 minutes which spins the blood and separates the plasma component that holds the growth factors used in treatment.
The concentrated platelets are then further extracted for use. These platelets are injected with a fine needle, with minimal discomfort, into the deep dermis or fat layer of the skin. The platelets will then gradually increase the formation of new collagen and the fibrin skin network, skin thickness and overall health of the skin.