THERMASCAN™ ACNE LASER TREATMENT IN NEWCASTLE
RESOLVE BOTH ACTIVE ACNE & ACNE SCARRING WITH THE THERMASCAN ACNE LASER TREATMENT
Are you looking for an effective treatment to clear up acne and improve visible acne scarring?
The ThermaScan™ ACNE laser treatment at Coco is a non invasive infrared treatment for acne that also has great benefits for fine lines, wrinkles and ageing skin. The ThermaScan™ is an industry leading infrared device that offers a solution for both active/inflammatory acne and acne scarring. It is an amazing all-in-one treatment for all skin types. By heating the sebaceous glands, the ThermaScan™ actively reduces inflammation and oil flow to assist in controlling and preventing acne. It is also a highly rejuvenating treatment which penetrates into the deeper layers of the skin to stimulate collagen and elastin fibres, decreasing the appearance of scarring over a series of treatments. Whilst there are many different treatments out there that do assist with controlling acne and it's symptoms, this laser treatment is a strong and steadfast way to control acne by both preventing and resolving functions of the skin that cause acne, redness, irritation, inflammation and scarring.
INDICATIONS TREATED WITH THE THERMASCAN™ ACNE LASER:
Acne
Acne scarring
Oily skin
Congested skin
Fine lines and wrinkles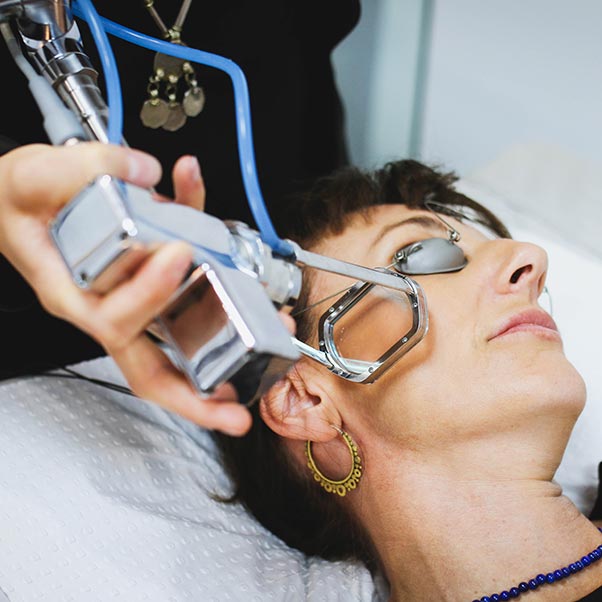 Treatment area will be cleansed to prepare the skin for treatment. Your practitioner, will place a chilled hand piece against the skin which prevents the surface of the skin from getting too warm while the laser energy penetrates deeper into the dermis. Once one section of the skin is treated, the hand piece will be moved to another location until the entire treatment area has been covered. The procedure typically lasts 15 to 30 minutes.
The ThermaScan™ laser treatment is gentle and non-invasive. Treatments are tolerated well and generally quite comfortable. You may feel a
warming of the skin as the procedure progresses. The sensation is described as a rubber band flicking against the skin. Sensation can vary depending on the severity of the treatment. In cases of severe acne inflammation the treatment can be more less comfortable. A topical anaesthetic cream can be applied to extra-sensitive areas for increased comfort.
Some redness is to be expected after your treatment which will resolve within a few hours. Results vary depending on the nature of the indications being treated, number of treatments completed, and the area being treated. We recommend a series of treatments for best results. Visible results will be noticeable in the weeks and months post treatment with best results usually observed 3 to 6 months post treatments. Results do vary depending on the nature of the condition.
Your practitioner will assess your current skincare regime and suggest any changes needed to improve your condition prior to your treatment. It is important this is also followed post treatment in line with a set of aftercare instructions that will be provided to you after your treatment. These instructions must be followed carefully to achieve best results. UV protection is an important factor post treatment as UV damage can affect the skin's immune and defence system impacting your results. Speak to your practitioner about an appropriate SPF product that will work for your skin in conjunction with your skincare routine.
The ThermaScan™ laser treatment is a non-invasive procedure, there is virtually no downtime. After a session, the area treated may appear red for about an hour. However, a soothing mineral makeup can be immediately applied if required.
Coco's registered medical team is made up of Dermatologists and Registered Nurses with a combined experience in diagnosing and treating skin concerns that spans over decades. Our RN's have undertaken intensive training with our Dermatologists to ensure diagnosis and treatment of your condition is accurate and successful. We have a range of treatments including lasers other non-invasive therapies such as light therapies, enzyme facials & hydra-microdermabrasion treatments to effectively control, clear and prevent acne breakouts. We provide a tailored solution that suits your lifestyle and goals for treatment to ensure that we help you get on top of your symptoms and live without the worry and irritation of ACNE.
Cost for treatment depends on the size of the area being treated. As a guide, a Half Face treatment costs $300 and Full Face costs $400. All areas are able to be treated including the shoulders and back.