THERMASCAN™ ACNE LASER TREATMENT IN NEWCASTLE
RESOLVE BOTH ACTIVE ACNE & ACNE SCARRING WITH THE THERMASCAN ACNE LASER TREATMENT
Are you looking for an effective treatment to clear up acne and improve visible acne scarring?
The ThermaScan™ ACNE laser treatment at Coco is a non invasive infrared treatment for acne that also has great benefits for fine lines, wrinkles and ageing skin. The ThermaScan™ is an industry leading infrared device that offers a solution for both active/inflammatory acne and acne scarring. It is an amazing all-in-one treatment for all skin types. By heating the sebaceous glands, the ThermaScan™ actively reduces inflammation and oil flow to assist in controlling and preventing acne. It is also a highly rejuvenating treatment which penetrates into the deeper layers of the skin to stimulate collagen and elastin fibres, decreasing the appearance of scarring over a series of treatments. Whilst there are many different treatments out there that do assist with controlling acne and it's symptoms, this laser treatment is a strong and steadfast way to control acne by both preventing and resolving functions of the skin that cause acne, redness, irritation, inflammation and scarring.
INDICATIONS TREATED WITH THE THERMASCAN™ ACNE LASER:
Acne
Acne scarring
Oily skin
Congested skin
Fine lines and wrinkles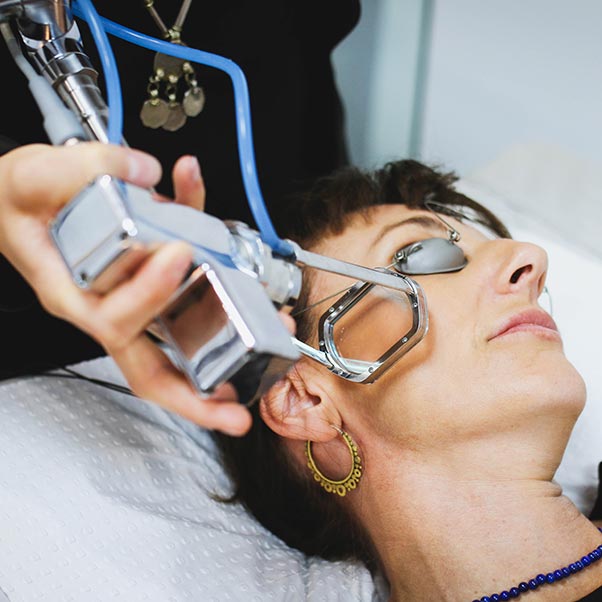 Treatment area will be cleansed to prepare the skin for treatment. Your practitioner, will place a chilled hand piece against the skin which prevents the surface of the skin from getting too warm while the laser energy penetrates deeper into the dermis. Once one section of the skin is treated, the hand piece will be moved to another location until the entire treatment area has been covered. The procedure typically lasts 15 to 30 minutes.