YOGA THERAPY IN NEWCASTLE
Improve your health, wellbeing and lifestyle with with yoga.
Whilst yoga classes are beneficial, yoga therapy recognises the need for a personalised approach when it comes to treating health ailments and physical and emotional conditions. Each body type and personal circumstance can vary greatly and therefore requires a unique approach when identifying goals for health & well being improvement.
A yoga therapist utilises all of the tools of yoga to create a personalised take home yoga practice that is tailored to suit the physical and emotional needs as well as the circumstances of the individual. The tools of yoga include but are not limited to asana (postures), pranayama (breathing techniques), meditation, chanting and relaxation practices. Yoga therapy considers lifestyle and dietary choices and the individual's natural tendencies. A yoga therapist can also offer encouragement to connect to deeper sources of inspiration such as hobbies and wisdom with an aim to achieving a holistic outcome of health and well being. A personal practice may be prescribed to help remedy physical, psychological and emotional imbalance.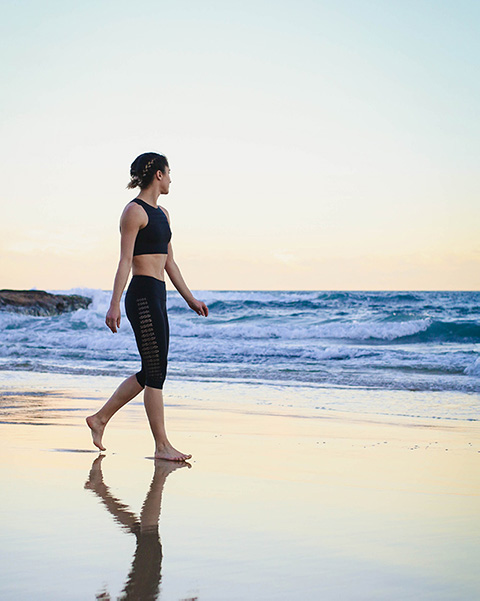 MEET COCO'S YOGA THERAPIST
Lisa has been studying and training in various energy based practices for over twenty years, including various forms of martial arts, Reiki, meditation, spiritual healing, yoga and yoga therapy. She has also been co-teaching a 350 hour diploma course in Yoga Teacher Training for the past four years. Lisa currently teaches two yoga classes per week at Coco and offers personal consultations in yoga and yoga therapy. Lisa is passionate about assisting others towards developing a personal yoga practice to use at home, based on the teachings of Sri T. Krishnamacharya and his son TKV Desikachar among others. She has travelled to India on several occasions and participated in many personal spiritual retreats.
The wisdom of these traditional practices including asana, pranayama, meditation and gentle chanting stand strong in today's modern, busy world and lead one on a journey towards personal health, healing and transformation.